WHO WE ARE

Indira's handcrafted pieces are made in the Khalil Production facility in Cairo, Egypt. Inspired by its long standing history and time-honored jewelry making traditions, the Khalil production house was founded in 1976 with a dedication to reviving the artisanship of the medieval quarter in the heart of the city. The production house is divided into two sections in which Indira falls under the supervision of second generation; Islam Khalil. Production manager of Indira in which Marwa and Islam continue to push the boundaries of what a handcrafted piece of heirloom represents.

In the production house we mix modern techniques such as 3D printing, lasering and casting in collaboration with traditional art such as filigree and hand stone setting. We are committed to sustainable luxury business practices, and the preservation of the craftsmanship of silver making in Egypt.

It is the soul of community and pride that makes each high quality piece affordable and truly one of a kind.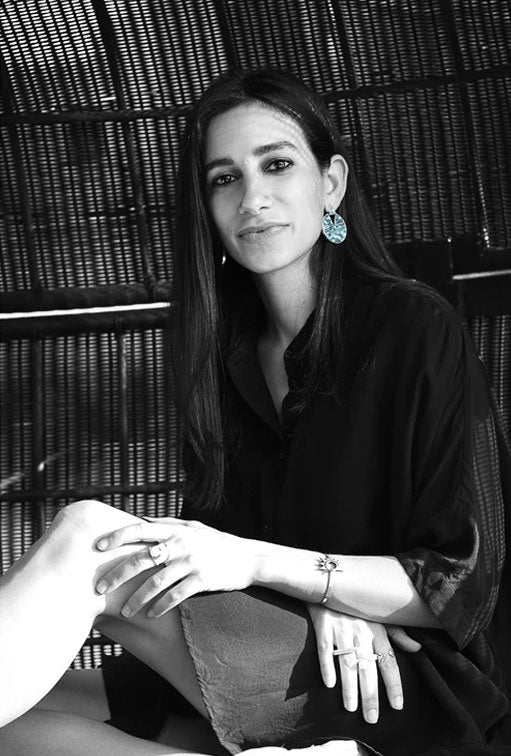 Marwa Saadawi, began an apprenticeship in the Khalil production house located in Cairo in 2015. During this time she rediscovered an old tradition of designing jewelry that is unique, long-lasting and functional that could be passed down for generations.
However, jewelry was not easily accessible or designed for young professionals and consumers, like herself. The contemporary jewelry market was either too expensive or filled with fast fashion brands that were wasteful, using low-quality materials that were cheap.
Marwa set out to create an international luxury brand for young professionals, while revitalizing and professionalizing the jewelry industry in Egypt.
Indira Jewelry was born in 2017.
Indira Jewelry is sold online and in boutiques worldwide and has designed an online process that makes it easy to access unique, well-designed, and eco-friendly jewelry.
"My goal is to create everyday jewelry that is everlasting and timeless – to be handed down generation to generation."
Be bold. Be Beautiful. Be Indira