Marwa designer and ceo of Indira, has always been conscious of her digital and human footprint of her business.

Since Indiras start, the values of transparency and responsible sourcing has determined the brands daily choices and direction made my Marwa and the Indira team.




Understanding the origin of our materials and its environmental impact is an essential part of Indira's ecosystem.

All indira creations are produced in its partnered production facility within Cairo, Egypt certified by the precious metals council operated by the egyptian gold, silver, and diamond center. Each item is inspected and documented of the origin of the materials used in the given item.

Of Indira's materials 70% of its precious raw silver and gold are recycled. Resin, and any artificial stones are rejected during the design process to continue to foster and hold the brand accountable to working with resources that come directly from the Earth.

Raw stones are currently sourced from Natures treasures in Austin Texas. A responsibly sourced rock depot that's ethos relies on honoring the spirituality and beauty of the Earth

Indiras signature abalone and mother of pearl shells are ethically sourced from New Zealan. Ocean shell is the world's largest and sustainable wholesale supply of seashells from th south pacific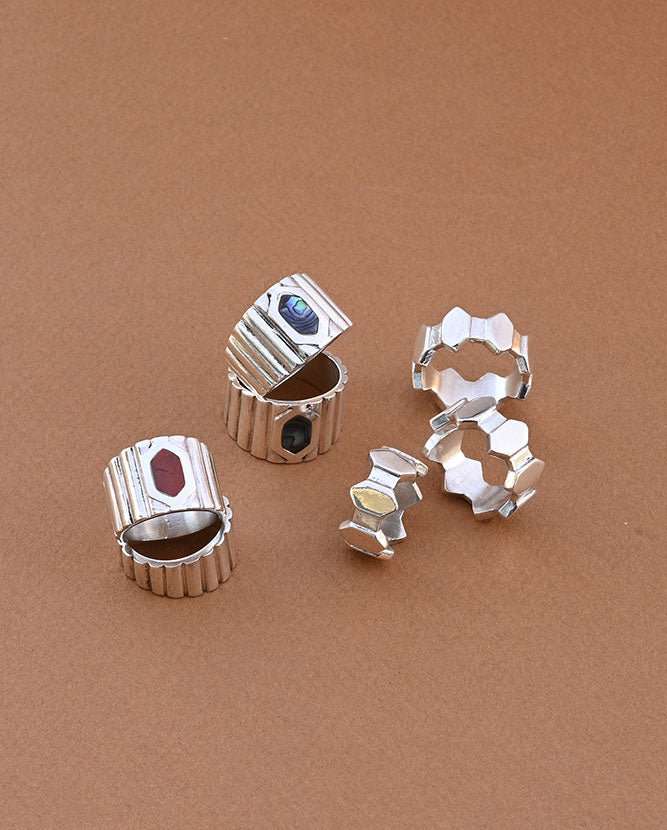 The packaging and all that supports the branding of Indira has been thoughtfully created to promote a reusable approach. Indira's packaging is made out of renewable wood and a biodegradable suede pouch.

Wood, is the most environmentally- friendly raw material at our disposal, and for these reasons the Indira team has chosen wood as part of Indira's packaging to continue to build a more sustainable society.

The Indira team is committed to the development of its employees, and has implemented a few positive initiatives, including the option of training each year in their respected skill sets that may or may not be attainable to them independently. To build and foster community and personal development lunch is provided and eaten together each day, allowing the team to feel empowered amongst one another.
Recycle Program
Indira's continuous commitment to taking care of the Earth

Through our recycling program Indira is working to reduce the environmental impact by reducing waste.

Only 18% of the worlds silver is recycled. Recycling your unwanted silver and gold jewelry reduces mining, which in turn reduces CO2 emissions by 2/3.

Recycle any sterling silver or gold household or jewelry item and receive 15% off your purchase.
Indira's Recycle Program
Recycle with Indira in 3 steps.
Indiras Recycle Program

Recycle with Indira in 3 steps.
Step 1

Contact us via email or whats app and we will send you shipping instructions
Step 2

Your piece will get checked and recycled into new silver and gold
Step 3

You will receive 15% off your next purchase